Over the years I have traveled quite a bit, over 85+ countries and still going strong. The majority of my travels have been to warmer climates, which can make packing a lot easier. I strongly dislike the cold, so I plan on sticking to warmer regions and chasing the sun. It has taken quite a long time, but I have finally figured out my perfect set-up for traveling. One of my major goals this year was to lighten my gear and only bring the bare essentials. Even though the majority of my travels have been with one backpack, I felt like I had too much stuff. This year I decided to cut my bag size in half and greatly reduce my travel gear and only carry the best items made. After experimenting with a ton of travel accessories, I decided to share my list of the best travel gear for 2020.
For over 7+ years I have been traveling with a Mountain Smith 65 liter top loader backpack (See above). This is not the same exact model I used, but it is very close and the same brand. There were a few problems with this bag and it was certainly a love hate relationship towards the end. The mountain smith bag held up for over 7 years traveling around the world, I literally took it everywhere with me! For under a hundred bucks, it was a great investment. The problems I had with it were the size (too big & heavy), a top loader (I highly recommend against top loaders ) and the overall look was not fashionable.  My travels have been on and off "one bagging" but over the past two years, I have been full time traveling with one bag, meaning everything I own fits into one bag for 365 days of the year. Figuring out a combination of the best travel equipment has taken a long time.
I just recently put my old mountain smith to retirement and upgraded to a 31.5 liter Tavik Sett Travel Backpack (Click here to see the price). This new bag is about half the size and SO much better for my type of traveling. One of the things I really like is that the bag transforms from a backpack into a duffel bag seamlessly (see below). A few other things that stand out are the separate shoe compartment, minimalistic design and it's a clamshell loader (meaning it opens like a suitcase). In my opinion, this is the perfect backpack for my type of traveling. I will be living completely out of the Tavik Sett Travel Backpack for the next year. Below I'll go in depth on every item I own and provide details about what I liked and disliked. (Note: A full review of the Tavik Sett Travel Backpack will be coming soon!) Update: After 3 months with the Tavik backpack, I can say this is the best travel backpack I have seen after all my years of traveling.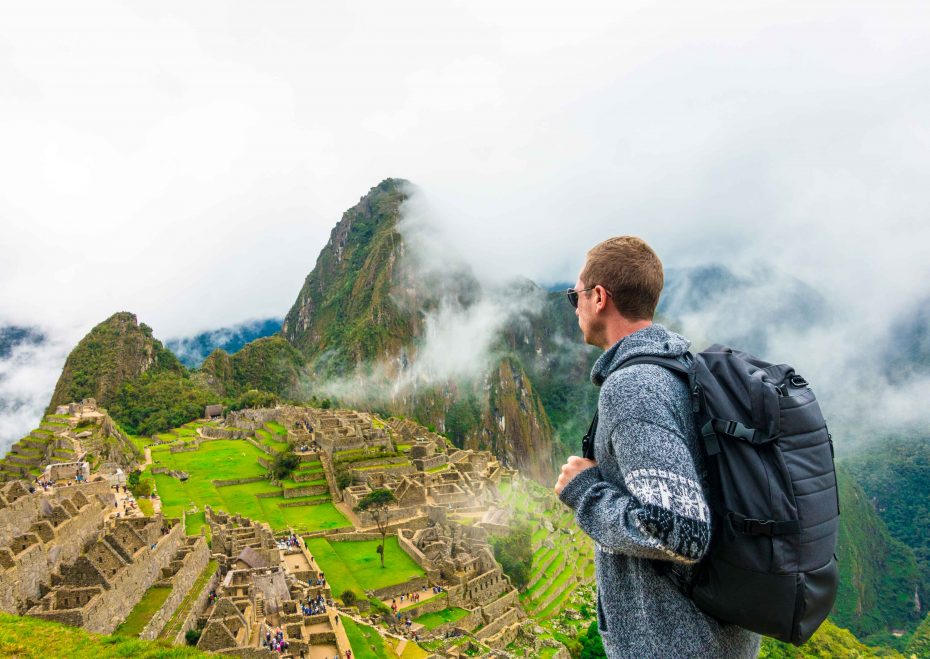 (16.9 Fl Oz / 500 ml water bottle for scale)
Here is my current set up and everything that fit into my backpack. It's pretty satisfying to fit everything you own into a small carryon bag that weighs under 10kg fully packed (22lbs). Just like anything, your backpack is only as good as the items on the inside. So after a lot of trial and error, here is my list of the best travel gear for 2020. (Pictured items correlate to numbers and descriptions below.
1. New MacBook Pro 13" w/ Touchbar (late 2016) – This was one of my biggest upgrades this year, besides my backpack. Since I am using my laptop for work constantly, 12-14 hrs a day I decided to upgrade from the 11 inch MacBook Air to the decked out New MacBook Pro w/ Touchbar, 16 GB of RAM and 1TB HD. I absolutely love it so far! The new retina screen has been amazing for editing photos and the improved battery life from my aged MacBook Air is fantastic. The USB-C controversy is no big deal to be honest. I hardly plug anything into my computer, but when need to I have a few of these adapters in my laptop bag. Overall, I am extremely impressed with the new MacBook Pro and would highly recommend it to anyone upgrading from a 3-4+ year old computer that needs a laptop for more than just perusing the internet and email. If you aren't a Mac fan, then check out my Best Travel Laptops article to see some other options.
1 a. ProCase Sleeve Cover – Every laptop needs a good case and finding the perfect case for the new MacBook Pro was really difficult. I ordered around 5 off of Amazon and none of them fit properly, except for this 12 inch Pro Case. All of the 13 inch cases I ordered had a TON of extra room around the edges, but this case fit extremely snug for my new MacBook Pro. This case + laptop is able to fit perfectly into my Tavik Sett Travel Backpack's separate laptop area. The laptop area is padded extremely well, so a case is not absolutely necessary.  

2. Travel Wise Packing Cube System – After reading a lot about packing cubes, I decided to give them a try. I did a bunch of research and the Travel Wise packing cubes were the best I could find. I think packing cubes can be really useful since they really help you scrunch all of your clothes together. I was able to roll every piece of clothing I own into one packing cube!
Here is every piece of clothing that I own:
*Items worn while traveling (not packed): Jeans, blazer, button down, Cole Haans, 1 pair of socks/underwear
3. Toiletries – I pack very light as far as toiletries. This is because is a lot easier to just buy the essentials when I arrive at a city. Most places I stay at provide soap at the bare minimum. The only essential toiletries I have are a small electronic toothbrush. I also recently purchased a travel cologne container which is pretty awesome! The only other items are small tooth paste, deodorant, nail clippers and travel hair wax.
4. Camera – I have been using the Sony Rx 100 MIII for the past few years and I could not recommend this camera more. It's amazing! There are newer versions, but the MIII is still one of the best compact cameras for traveling on the market. If you want to check out the photos this thing can produce, check out my Instagram @SwigMeetsWorld. I recently bought this carry case for the Sony RX100 and it fits extremely snug. The case is ideal for protecting the camera and for squeezing in spare batteries & SD cards.
5. Bose Soundsport Headphones – this is another one of my essentials items. I use the Bose headphones all the time for work, travel and going to the gym. I love the sound and fit of these headphones and is probably one of the most used items on my list since I listen to music all the time.
6. Cables and Accessories – With my camera, laptop and phone I have collected quite a few cables which are needed for traveling. I recently picked up a multi tool SD card reader that is fantastic for loading photos onto my new Mac. I also carry a small power bank in here that gives my iPhone a full charge. I also recently bought a Google Chromecast that let's me stream my laptop to any TV, but the Amazon Fire Stick is a good alternative too.
7. Joby Tripod – If you are looking to take long exposure shots like the night time photos above, then a solid tripod is essential. This tripod has been one of my 'best buys' and is perfect for stable shots and the occasional selfie.
8. WD Passport Hard Drive (4TB) – Shooting photos in RAW takes up a lot of space, therefore having a reliable external hard drive is a must. I store photos, videos, TV shows and documents on my hard drive. It a great travel companion since I have thousands of hours of entertainment fit into one small hard drive. To keep my hard drive safe while traveling I purchased this Amazon basic carrying case.
9. Philips Norelco Electric Shaver – I have played around with a few travel shavers and recently switch from a foil razor to a rotary one and enjoy it a lot better so far. The small travel shavers were a little bit lighter, but the performance did not justify the slight weight difference.
10. Travel towels – I read ALOT about travel towels and even tried purchasing a linen towel. The linen towels are basically a bed sheet and I can't believe anyone uses this as a towel. It feel like drying yourself off with sand paper. After absolutely hating the linen towel, I ended up getting this soft micro fiber travel towel. The towel is pretty nice and feel fairly comfortable to use, but I am still not 100% sure it's worth the space. Most of the apartments or places I stay at have plenty of towels to use.
11. Day Bag – The Timbuk2 Hidden Messenger Bag is the perfect travel bag for day trips. It compresses and folds up extremely small (see right hand picture below). I am able to fit it perfectly into the spot where my Tavik bag's rain cover was stored. I ended up leaving the rain cover at home since I don't think I will need it. I just had a chance to put this bag to use over the weekend and it is really great for day trips or even short weekend getaways. The material is even water resistant and there is a pocket on the inside, which is great for storing change and money.
12. Shoes – This is probably the biggest struggle for me. It is extremely hard to cut the load down for shoes. The reason is because I enjoy going out to nice restaurants and lounges that require a certain dress code. Even though my shoe situation isn't ideal, I am content with the arrangement. While traveling I wear dress shoes and pack up my Sperrys and Nike Free Runs. The Tavik Sett Travel Backpack has a separate compartment where I am able to fit my Nikes and Sperrys together. The great thing about this compartment is it can easily expand into the top compartment if necessary.
Sperrys – These are my "day shoes" since they go with almost every outfit in my wardrobe. They are casual enough to wear with shorts and formal enough to wear out at a "smart casual" environment.
Cole Haans – My "going out" shoes. These must be some of the most comfortable dress shoes I have ever worn. The suede can be a little hard to maintain, but since I only wear them for special occasions, it is no problem.
Nike Free Runs – My gym shoes. The reason I picked these out is because they are light and can compress extremely well. I am able to squeeze these and my Sperrys into the shoe compartment in my backpack.
Things I tried and didn't like. When I was back in the US for Christmas I ended up ordering a ton of things off Amazon. Some things were winners and a few things were not so great. For example, I read countless articles about how amazing Merino Wool was for travel, but after trying it out I was not impressed. The Icebreaker Merino Wool Vneck shirt was the shirt I decided to test out and I was fairly unimpressed. The care instructions are more detailed than taking care of Gizmo from Gremlins. In my opinion, it is very uncomfortable fabric and it is a huge magnet for lint. With all the positive reviews surrounding Merino wool, I had high exceptions and was let down. I didn't even end up packing the shirt and opted for the H&M V-necks that have held up really well over the years.
Another item that I was unimpressed with was this linen travel towel that I mentioned previously. It felt like drying yourself with a bed sheet more less. I was not a fan at all, but maybe I am too used to soft cotton towels. Another item that I was not overly impressed with was this packable day bag. It appears to be a well-designed bag, but the straps and overall look was not what I expected from the pictures.
Things I am in LOVE with: One of the things that I was most impressed with when picking out my wardrobe was my undergarments. My brother recommended the Under Armour Boxerjocks and they have been incredible so far. They are the perfect hybrid between sport and casual underwear. I would recommend ordering two sizes to find out which one fits you best.
2020 Additions:
Mavic Mini Drone: I recently added in the Mavic Mini Drone which is perfect for traveling with my one bag set-up! You 100% want to get the bundle since it comes with a case and extra batteries, which are way more expensive if you buy everything separately. The drone produces fantastic quality video and is extremely small, about the size of my iPhone 11 Pro.

iPhone 11 Pro: I was a bit hesitant to upgrade from the iPhone X to the iPhone 11 Pro, but it was such a good decision since I am constantly taking photos and videos of all of our travels and the footage is so crisp, clear and I am blown away by the quality of the results. This is such a powerful device and the boost in battery life is great for any long journey!
What type of traveler are you?
This set up works perfect for me, but it might not fit your travel style. Since my job is online I normally visit a city for at least one month and stay in a furnished apartment or Airbnb. I consider myself a minimalist to an extent and firmly believe that having more things will not greatly improve my life. Investing in experiences is something I would much rather put my money towards.  There are many types of 'minimalists' and everyone's travel situation varies. Purchasing the best travel gear that will last for the unforeseeable future has allowed me to travel long term without needing to upgrade often. I prefer to travel light, but still, want to maintain some level of style.
Change your mindset.
Some people might think it's crazy to travel a year with this light of a bag, but you have to remember that all you really need is 5-6 days worth of clothes and can do laundry on the move. I prefer to have 7+ days of clothing and can stretch it to around 10 days before having to do any laundry. Once you start packing for a week and only bring the essentials, it becomes a lot easier. There are people who travel with A LOT less than I do, but for my job and needs this set up works for me.
What is the best travel gear in your backpack? Leave a comment below!